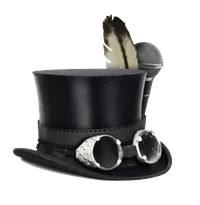 Hey, it's TJ Miller, you want some game? Let's Tip Unda The Hat!  
For some of the best independent music from artists you need to know, click, listen and follow https://spoti.fi/3td3Xol. It's time for some self love and some self care. Listen to the song in the number one spot this week from Ruby Camille called Self Love. Know any Indie artists that need to make the list? Send them to me, if we dig 'em, they take the number one spot. 
This week, Why you selling out? - Let's go -  
Bruce Springsteen, Bob Dylan, Neil Young and Stevie Nicks are among the artists who have sold off all or part of their back catalogs. And Lil Wayne reportedly sold not only his masters but all of Young Money's as well; that includes Nicki Minaj and Drake for one hundred million dollars, that's $100,000,000; 🤯  Bruce sold his for 500 million 🤯🤯  - Why? If you remember last week I told you that ownership is control. And I know I see a lot of people who have no idea how any of this works get on social media and say how dumb it is for selling out. So are they forgoing future royalties and creative control over their songs? Well this will only give you a glimpse, but you can always reach out to me for more information. So why sell your control? Several reasons. I will be the first to say I'm not a fan of selling your masters, but I understand. One key reason that a lot of artists are now selling is the capital gains tax. CGT applies when you are taxed on assets that make money, like royalties and are paid by the top 1% of earners, like Lil Wayne and 'nem. CGT is going up to 39.6 for those making over 400K, so naturally to offset the tax hike, you sell quickly before the new law comes into place.
Another reason is Covid. Yep Covid 19 is all in the music business. Since the Covid shut downs, music has not sold as it once did. All of the TV shows, and commercial ads, tours and clubs and places that pay royalties have not been in operation. Even now that things are opening back up, shows that once used big songs in their programming have not been using them. Therefore to make up for the money lost, bigger acts are taking the right now money and forgoing money down the road. And say what you will a hundred million is a hundred million and it's not getting taxed as it would if it was coming in once a quarter when royalty statements come out. Now let's understand that it's not necessarily an all or nothing proposition. You can sell a portion and keep the rest, maybe sell it later. But at the end of the day, the master owner holds the control even in the negotiations of selling their catalog.  
This week's #IAOTW - Independent Artists Of The Week is Ruby Camille - singer-songwriter from Nashville. She is available for bookings too. Go to her website or just give me a shout. 
For more information on this or to hire Unda The Hat as your brand or label consultant send a message via undathehat.com. See you next Tuesday.